WELCOME TO K.R. MANGALAM WORLD SCHOOL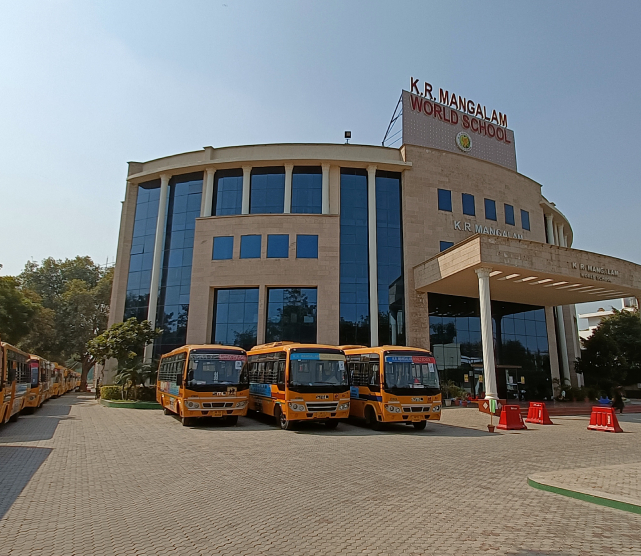 Leading CBSE School
in Delhi NCR
We are proud of Being a leading CBSE school in Delhi NCR that imparts educational excellence through experiential learning procedures to amplify students' conceptual and practical skills.
Ranked No. 2 in Gurugram

Ranked No. 2 in Gurugram Leaders Category By Times School Survey 2021

IDS Award by British Council 2020-23

Recipient of International Dimension in Schools (IDS) Award by British Council (2020-23)

Innovative School Excellence Award

Recipient of Brainfeed for Innovative School Excellence Award (2017)

International School Award

Recipient of International School Award (ISA) by British Council (2017-2020)
New-age learning techniques
K.R. Mangalam World School is committed to providing dynamic scholastic and co-scholastic opportunities to all students. It is our constant endeavor to facilitate our learners to develop as collaborative, innovative, and creative thinkers.
Experiential Learning

Children learn best through their experience and reflection, so we predominantly focus on applying classroom lessons and skills to real-world experiences.

Project-Based Learning

Teaching at KRM is driven more by learners' questions rather than by a teacher's lesson. Students are engaged in a comprehensive process of asking questions, discovering resources, and applying information.

STEAM Learning

The STEAM Education approach to learning uses Science, Technology, Engineering, Arts, and Mathematics as access points for students to develop critical thinking and find creative ways of solving problems and linking different fields seamlessly.

PSPE

Personal, Social, and Physical Education is an integral part of teaching and learning in our curriculum to promote personality development, physical growth, and social well-being of the child.

Honing Multiple Intelligences

Multiple Intelligences methodology enables students to better understand the concepts and values they learn. We reinforce skills ranging from linguistics, numeracy, art, music, nature, spatial, and kinaesthetic in all learners, empowering them to explore infinite career avenues.
The school offers world-class sports and life experiences by qualified coaches and skilled instructors to its students. We empower students with the right techniques, sportsmanship, and leadership skills, equipping them to perform on national and international platforms.
Sport games:Chess, Table Tennis, Yoga, Martial Arts, Taekwondo, Shooting, Golf simulator, Basketball, Football, Volleyball, Cricket, Gymnastics, Skating, Lawn-Tennis, and Badminton
Parent of Shrinika Joshi
Nursery – Blooming Bluebell
We have chosen this school as it offers a thought-provoking atmosphere where children can learn with fun and thrive in an atmosphere very conducive for their growth. The pedagogy of the school is such that it enhances the overall development of the child.
Parent of Avya Shukla
Nur- Radiant Rose
We are truly delighted with how our children are embraced, nurtured, and supported even in these unprecedented times. Each and every child is given attention even when we all are attending classes remotely. All queries and doubts are addressed proactively
Parents of Viaan Vasisht
KG-Exotic Emu
We were surprised to see the progress and appreciate the great efforts put by school teachers who worked extremely hard to keep the sessions so engaging. We have seen visible progress in his oratory skills, class participation, and holistic development in every aspect important for a child.
Parents of Shreyansh Ghosh, Sourish Ghosh
KG-A, 9 E
Over the last 10 years the school has excelled and built a strong pillar for holistic development of the children through multidisciplinary programmes. Even during the pandemic, the teachers and faculty kept the motivation of the students high and academic sessions continued seamlessly with the digital resources. Our heartfelt thanks to the KRM team.
Parent of Mishka Jain
Nursery (Dainty Daffodil)
I appreciate the school for having a great curriculum and running the online program during this pandemic situation. Thanks to the class teachers who made it very easy & comfortable for the kids to learn from home. Mishka feels connected with her classmates & teachers as well. Keep up the good work!!
Parent of Aayush Pathania
Grade -1
The school has great facilities available and focuses on overall development of the kids. Student –Teacher ratio is optimal for effective learning. Awesome school, which has a blend of modern experiential learning as well as conventional learning.
Our Address
K.R. Mangalam World School
E Block, South City- I, Gurugram-122001
Email Us
southcity@krmangalam.com